Details
----This hydraulic buffer for all machinery ,It learn German FESTO and SMC product experience. It has EXCELLENT PERFORMANCE ,You will reduce your cost of purchase hydraulic buffer a lot , If you can choose our hydraulic buffer,At the same time, It will give you amazed excellent performance.The product retail all worldwide, its quality is best,but its price is reasonable. we often stock goods for customer ,wellcome purchase.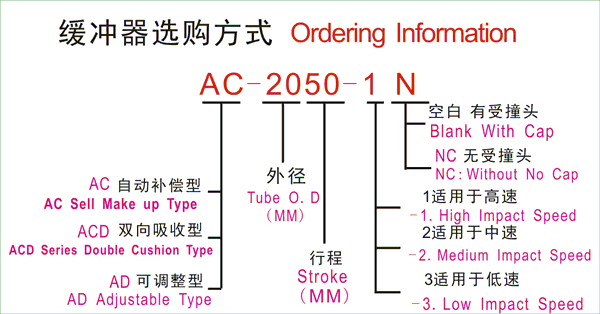 INSTALLATION NOTE
1.For maintenance mechanical safety to prohibit the use of after decomposition.
2.Use AD / AC series to be stopped before the effective stroke 1mm previously.
3. Non-tube teeth and the axis of painting , allect the cooling effect and the outbreak of the oil spill situation.
4.Lpsilateral to install more than two Shock Absorbers Verify the synchronization.
5.Assembly Please note that the intensity of the fixed plate and eccentric angle shall not be greater than 2.
The scope of application of the Shock Absorbers
Feeding equipment,screen printer, robot, printing machines, pad printer,conveyors, electronic, teaching equipment, food package machinery,laboratory,rubber and plastic machinery. Woodworking, construction machinery, air traffic industry. Health equipment,Defense and military equipment, the steam locomotive manufacturing, environmental protection equipment.
FUNCTION Shock Absorbers
1. Reduce noise and provide a quiet environment.
2.Eliminate the impact of vibration and impact damage.
3.Accelerate the mechanical actuation frequency, increase the production energy.
4.Improve efficiency and create high-quality products.
5.Extending Mechanical life.
How to choose a Shock Absorbers
1. Aggregate weight of the moving objects.
2. Movement direction(horizontal free fall, rotation, etc).
3. Additional propulsion(gas,hydraulic cylinders,motors).
4. The impact of the number per minute.
5. Instantaneous impact velocity.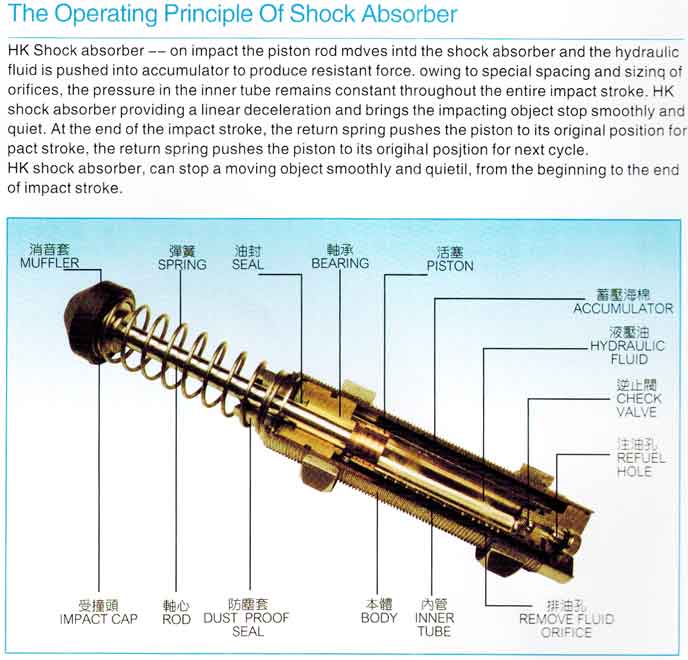 Reviews
Tags